My 2 weeks vacation are almost over. Tomorrow it's back to work. Not that I've been sitting on my butt for 2 weeks, really not.
We've been giving the kitchen a make-over to give it a fresh new look.
About 14 years ago, when we bought this house, we painted the kitchen purple and blue. Felt like a good idea at the time.

But time goes on and our taste has changed, so about time for a make-over.
(click on the photo's for a bigger view)
When we moved in, there where pine floorboards in the kitchen. We removed them a while back, but unfortunately, the original floor tiles from the 30's were too damaged and incomplete to use. So a couple of weeks before my vacation I've put laminate flooring in.
The backsplash were metro tiles and we didn't like that anymore. I wanted to try and make a new backsplash with the left-over laminate flooring. It turned out rather good to be honest.
During my vacation time to sand and paint the kitchen. This time a combination of white and creme.
Some might call it a "distressed look", others will call it a "shut-up-and-continue look":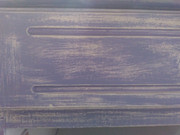 Moving right along with paintbrush and roller
And, even if I say so myself, the result is not too bad for an amateur handy man
One thing left to do: the window frame. But that's a job for next weekend.
Tomorrow back to work for the boss that pays me, so (yesterday and) today some well earned rest.
{jcomments on}