By request of several visitors, an update on how to import a GPX route file into OsmAnd:
(Click on the pictures for a larger view, and although the screenshots are in Dutch it's still easy to follow)
First of all, you need a GPX route file (you can download from routeyou.com or your favorite tracking app like Sports-Tracker or Strava). Than you have to upload that file to your phone or tablet.
Connect your device to your computer and locate the folder "tracks", on my phone it's on the external storage (SD-card) but it can also be on the internal storage. Depending on how you installed the app and what the settings are. Copy the GPX file into this folder.
Disconnect your device and start up OsmAnd, don't forget to activate the location services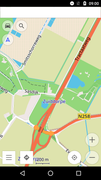 From the menu, choose "Directions" (here "Routebeschrijving"), "options", "GPX route" and Select GPX... "
Select the route file you've uploaded and check the settings
Press "Close" and "Start" and enjoy your trip!
Have fun!
{jcomments on}