Although a recumbent trike is very comfortable and stable to ride, it holds one risk of injury, namely "leg suck", when your foot slips from the pedal while riding and gets underneath your trike. This can result in serious injuries.
A lot of trikes are equipped with toeclips, replaced by clipless pedals by many riders. Even with toeclips there's always the danger of your foot slipping of the pedal while riding over a bump or puthole, etc… But clipless pedals aren't really my thing. When my legs are ready, I want to go commuting on my trike, wearing my workboots. And my workboots don't hold cleats. In fact, I want to be able to go out riding whatever shoes I'm wearing.
So, after doing some searching on the net, I've decided to try and make my own toe straps or pedal straps, combined with heel slings.

I had some old mtb pedals lying around and bought 4 toeclip straps. Used 2 straps on each pedal and looped them underneath to prevent slipping.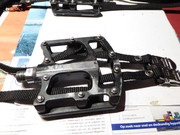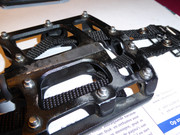 Some fitting to see if it would work with my workboots. I must say it's a very sturdy grip like this.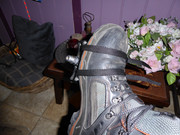 I used the insert of an old shopping bag to make 2 strips to keep the straps open so I can easily put my feet in them.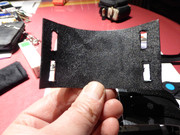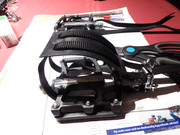 To make sure that even while riding over bumps, putholes etc… my feet stay on the pedals I've used the bungee cord from a luggage straps to secure my heels.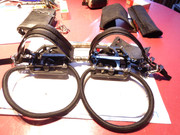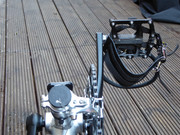 And after yesterday's ride, this simple sollution proved to be very effective. My feet stay on the pedals without any effort. I could even go out on a ride wearing my slippers (If I should want to). 😉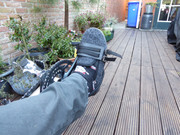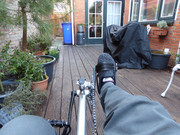 So, will this be a permanent sollution? The proof will be in the riding. After some more rides I will see if this will be sufficient or if I will have to go for a commercial product. For now, my feet and legs are safe.